The SMC conference is a major event in the school year, typically attracting 300-400 teachers with between 20 and 30 workshops on offer. It also serves as a social gathering at which teachers can meet and network with colleagues from other parts of the country.
Almost 200 educators from the length of breadth of Scotland and Scottish Education (and, in some cases, much further afield) were present at the Scottish Mathematical Council conference at the University of Stirling on 20th May.
First order of business for the day was the announcement that Allan Duncan was the recipient of the 2023 SMC Achievement Award (see photo opposite of Allan Duncan (holding his award) and SMC Chair Alan Walker).
The keynote presentation was delivered by Ayliean MacDonald (see below). Ayliean is a former Scottish secondary mathematics teacher who has recently taken up a post as a Community Mathematician in Leeds. Her presentation, How Maths Teachers Saved My Life", served as a thank you to all mathematics teachers, and a session full to the burm of ideas, activities, and deep personal reflection on the wonders (and pitfalls) of teaching mathematics.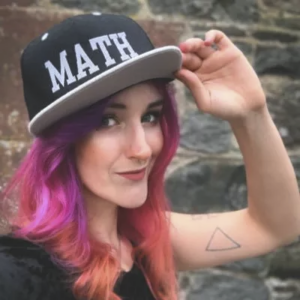 The mathematics community offered 33 workshops in a jam-packed event, and it was excellent to see such a varied offering, fit for primary teachers, secondary teachers, ITE educators and university and college lecturers.
Thanks go to all our presenters, and to the many exhibitors who came to show off the current offerings in terms of technology, pedagogy, and textbooks available to educators today.
The SMC Achievement Award is presented each year at the SMC Conference. Nominations are welcome at any time.
Nominees should have been involved in mathematics education in Scotland for a significant amount of time and have made a major contribution to the learning and teaching of the subject at primary, secondary or tertiary level either through working directly with pupils or students or by holding a position of influence within a school, college, university, institute of teacher education, local authority, Education Scotland or the Inspectorate.
Upon completing his mathematics degree at Edinburgh University, and his teaching qualification the year after, Allan taught for a short period at Dollar Academy. He then moved to a high school near Lake Victoria in Kenya but three years later he returned to Scotland and quickly moved up the departmental ladder to become PT at…
Previous conference presentations